Dover Veterans Housing Project to Begin Construction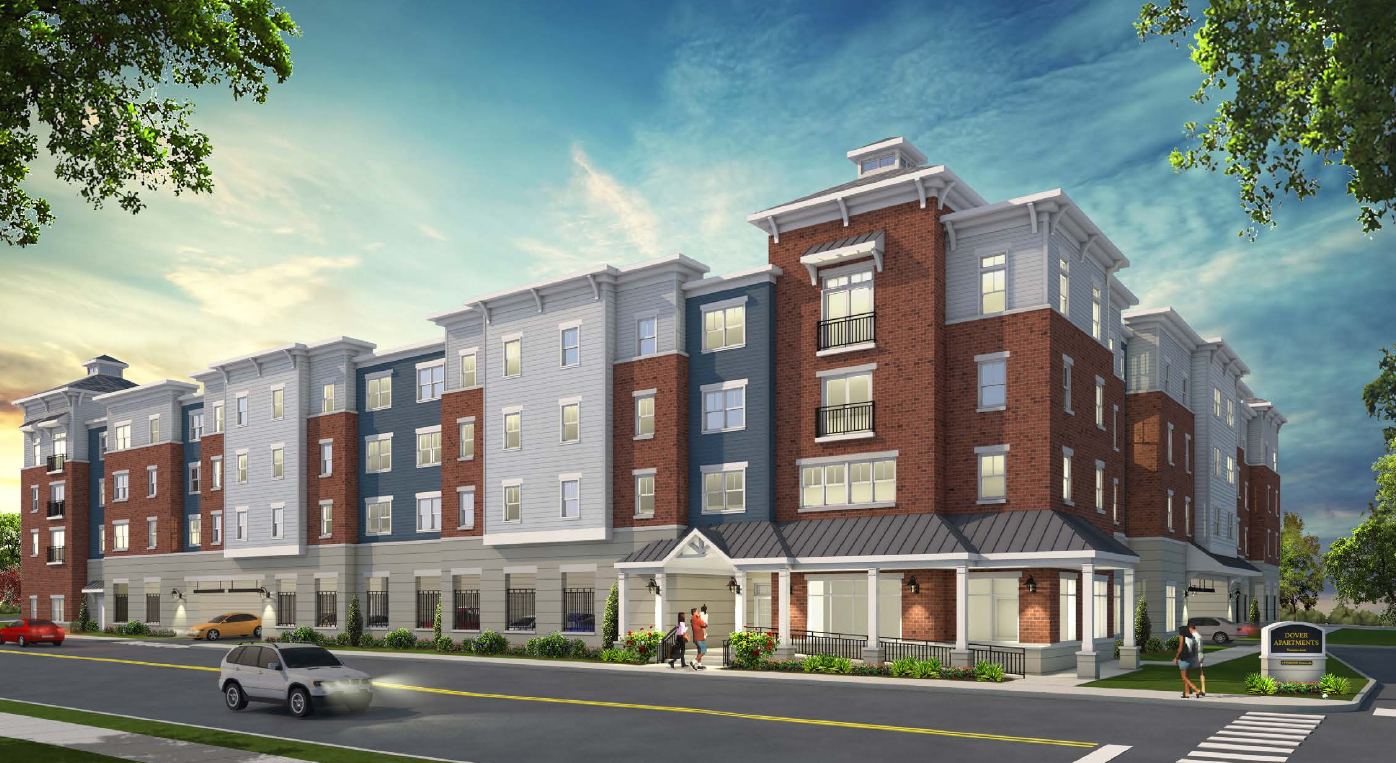 The 100% affordable new construction project will provide much needed housing for local families and veterans
Pennrose and the Town of Dover are pleased to announce they have closed on financing for Dover Veterans Housing, a new 70 unit affordable family and veterans housing community in Morris County, New Jersey.
Located in the Town of Dover, the proposed project is part of downtown Dover's master redevelopment plan and will transform a formerly underutilized parking lot into a vibrant housing community. One hundred percent of the units will be affordable to residents with household incomes at or below 60 percent of the Area Median Income (AMI), with a preference of fifty percent of the units for veterans. Five units will also be set aside for formerly homeless residents. Triple C Housing will provide robust on-site supportive services for all residents of the development.
"We are very excited to be able to support this great development project which will provide high-quality housing for our veterans," said Mayor Carolyn Blackman. "Pennrose and our team are working hard to ensure this project moves forward expeditiously. We are proud to be working with Pennrose and looking forward to seeing a dynamic building." 
The project will include one, two, and three-bedroom family units with on-site parking, community space in the building, laundry facilities on each floor, bicycle storage, and on-site management space. In addition, every unit in the development will receive Energy Star Certification and the development will be constructed to meet Enterprise Green Communities standards. At least five percent of the units will be accessible to residents with physical disabilities. All units in the project will be completely adaptable. 
"At Pennrose, our goal is to partner with communities to build high-quality housing that improves lives," said Jacob Fisher, Regional Vice President at Pennrose.  "We are thrilled to support Dover's redevelopment plan by transforming an underutilized site into robust housing that gives families much needed supportive services, amenities, and access."
The four-story building will mirror the existing architecture of downtown to ensure the building fits seamlessly with its surroundings. It will also provide the added density needed to help the Town of Dover achieve its goals of reducing auto dependency, complementing neighborhood commercial uses, and creating a walkable downtown. 
Dover Veterans is being financed through a combination of Low-Income Housing Tax Credit equity – through an allocation from NJHMFA, Morris County HOME funds, and permanent debt. Hudson Housing Capital is the syndicator for the tax credits and Santander is the purchaser. Santander is also providing the construction debt. Grandbridge Real Estate Capital is providing the permanent debt through a Freddie Mac transaction.
Pennrose has a successful track record developing high-quality, affordable veterans housing communities throughout the country. Pennrose also developed Residence at Roosevelt Park and Truman Square in Edison, New Jersey.