Pennrose Closes on College Hill Station in Cincinnati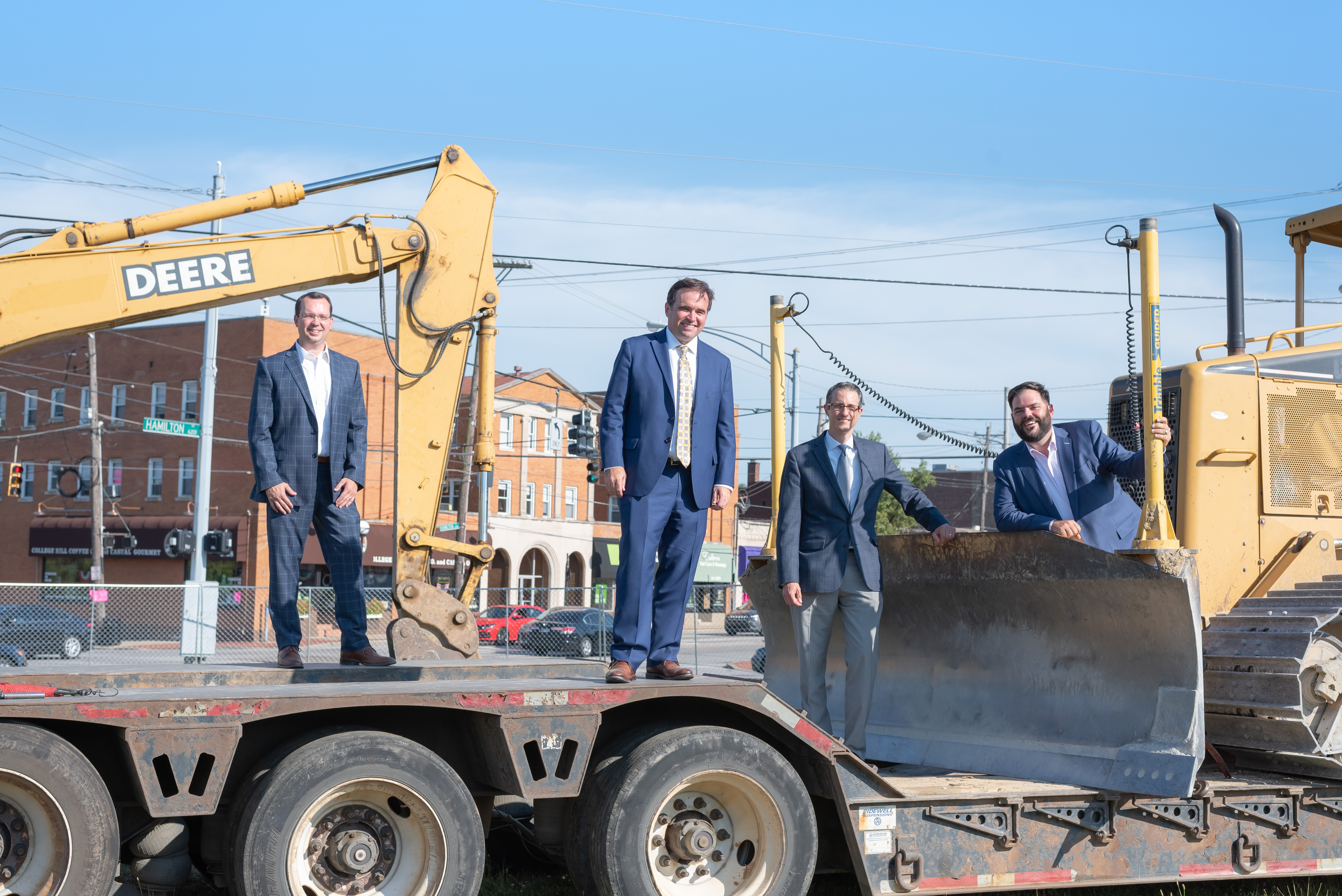 Pennrose and the College Hill Community Urban Redevelopment Corporation (CHCURC) are pleased to announce they have closed on financing for the $31 million mixed-use College Hill Station development at the corner of Hamilton Avenue and North Bend Road. Located on 7.5 acres of vacant, city-owned land, development plans include 171 mixed-income residential units, for-sale homes, and approximately 10,500 SF of commercial space.
The 171 apartments will be built in two four-story, mixed-use buildings anchoring the development along Hamilton Avenue and turning onto North Bend Road. The buildings will include ground-floor commercial space, with a mix of studio, one- and two-bedroom apartments on the upper three floors. Traditions Group/D-HAS also plans to build 33 lower density for-sale custom homes on the eastern portion of the site.
"Today we mark a new development coming to College Hill and celebrate the continued growth and vibrancy of this neighborhood business district," Mayor Cranley said Friday during a private, on-site gathering with project partners. "This project is an investment in our city, the neighborhood of College Hill and the hundreds of people who will live, work and shop here every day. I can't wait to be back here for the ribbon-cutting."
"College Hill Station is the quintessential story of our neighborhood. Eighteen years of hard work, not only at the corner of Hamilton and North Bend but throughout the entire business district, made today possible," said long-time CHCURC Board President Mike Cappel. "There are so many things that make College Hill a special place - the historic housing stock, the diverse and welcoming community, and a business district with great small businesses. With this development, we are excited about offering the opportunity for more people to call College Hill home."
"The College Hill Station development is the culmination of years of hard work and dedication from the City of Cincinnati and CHCURC," said Lasserre Bradley, Regional Vice President at Pennrose. "We're excited to build on CHCURC's strong track record of success and execute our shared vision for the site. Our goal is to achieve long-term sustainability of the business district, spur further economic development, and create a neighborhood benefiting the local community for generations to come."
The multifamily buildings will include ample on-site resident amenities, including a fitness center, leasing and management offices, community rooms, coworking areas, and a fourth-floor terrace overlooking the business district. The development team plans to incorporate public green spaces and outdoor amenities to enhance walkability and livability for the entire community. The site's convenient location to Downtown and Uptown also provides residents with easy access to employment opportunities, retail, restaurants, and other lifestyle activities, as well as close proximity to the Ronald Reagan Highway.
The financing structure for College Hill Station is a creative combination of public and private resources including funding through the City of Cincinnati, participation by The Port of Greater Cincinnati, lending through Cincinnati Development Fund, First Financial Bank and First Commonwealth Bank and private equity through Pennrose and the Finance Fund Capital Corporation.
The City of Cincinnati has been assembling the College Hill Station site since 2002 and completed the acquisition of the contiguous 7.5 acres of land in 2013. In October 2017, CHCURC released a Request for Proposals and named Pennrose as the preferred developer in July 2018. The College Hill Station Selection Committee was comprised of members of CHCURCs staff, College Hill residents, and City of Cincinnati employees.
The College Hill Station redevelopment is a key component of the ongoing revitalization of the College Hill community.
With a regional office in Cincinnati, Pennrose is active throughout Ohio and the Midwest region of the United States. Pennrose is currently developing Apple Street Senior, Lincoln & Gilbert, and Bond Hill Senior in Cincinnati, Warner and Swasey and Cedar Redevelopment III in Cleveland, and Eastern Woods with the Blanchard Valley Health System in Findlay.