Pennrose Closes on North Hill Development in Fairfax County, Virginia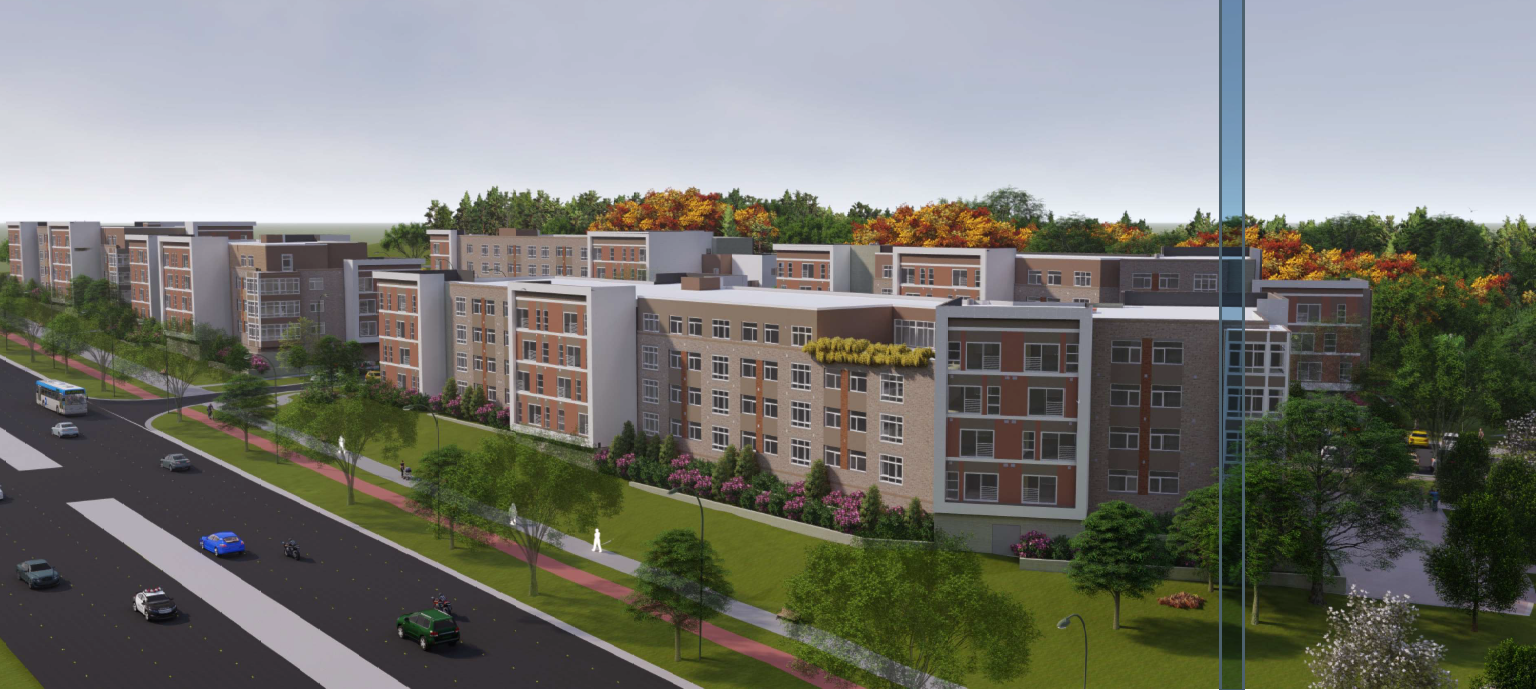 Pennrose, Community Housing Partners (CHP), and the Fairfax County Redevelopment and Housing Authority (FCRHA) are pleased to announce they have closed on financing for the 33-acre North Hill development in the Mount Vernon District of Fairfax County. Located off Richmond Highway, the comprehensive initiative includes mixed-income family and senior rental apartments, for-sale townhomes, and a new 12-acre community park. Construction is slated to begin in June 2020.
The multifamily portion of the development will consist of five, four-story buildings facing Richmond Highway. The buildings include 216 affordable family apartments and an additional 63 units of affordable independent living for seniors. The 175 market-rate, for-sale townhomes will be built along Dart Drive. The 12-acre public park will be located east of the apartments and north of the townhomes, and the public plaza will be built on the corner of Dart Drive and Richmond Highway.
"Pennrose is proud to work alongside our development partners to execute our shared vision for the site and achieve the Housing Authority's longtime goal of adding more high-quality, affordable housing options to the neighborhood," said Ivy Dench-Carter, Regional Vice President at Pennrose. "The comprehensive plans for the North Hill development are a testament to the power behind public-private partnerships and will spur further investment in the region."
"The development of the North Hill site is a game-changer. It will bring much-needed affordable and market-rate housing to Richmond Highway and support the area's overall revitalization effort. With its mix of affordable rental housing for families and seniors, market-rate for-sale townhomes, and a new park, North Hill represents our strong commitment to inclusive development as we revitalize the Corridor," said Supervisor Dan Storck, Mount Vernon District.
"North Hill demonstrates the epitome of common-sense projects – and our commitment to One Fairfax. Here, our housing authority and our private-sector partners are taking a significant amount of vacant, underutilized land and transforming it into a beautiful neighborhood to bring stability, security, opportunity, and accessibility to hundreds of our neighbors in need. This project is the product of years of community engagement and preparation and is reflective of the care and consideration of a wide variety of community interests," said Chairman Jeffrey McKay, Fairfax County Board of Supervisors.
"This is a transformative project for the Richmond Highway corridor and a very proud moment for the FCRHA. Putting together the financing to pursue a project of this magnitude is always an exercise in creativity, ingenuity, and resilience. Thanks to our dedicated staff at the Department of Housing and Community Development and the county, and to the cooperation and commitment of our partners to a common objective, we are excited to be in a position to proceed with a major keystone project that will serve for years to come as a catalyst for the future development of this area of the Route One corridor," said Chairman Robert Schwaninger, Fairfax County Redevelopment and Housing Authority.
"The North Hill development will not only revitalize the Richmond Highway area in Fairfax County, it will also be a wonderful example of a truly inclusive, mixed-income community with both affordable and market-rate housing," said David Schultz, Senior Vice President of CHP Real Estate Development. "Community Housing Partners is excited to bring our experience with affordable rental housing to this dedicated team of professionals."
The FCRHA purchased the site, the former Woodley-Nightingale Mobile Home Park, decades ago with the intent to bring high-quality, affordable housing to the area. The work began with the development of the Woodley Hills Estates mobile home community on the south side of Dart Drive. Now, after years of discussions, planning, and community engagement, the transformation of the remaining 33 acres will move forward through the public-private partnership.
The FCRHA has made significant contributions to the multifamily/senior affordable housing project – one of the largest ever at 279 units of affordable housing and a cost of $124 million. In addition to contributing 12 acres for use as a park and another 8 acres for the site of the buildings, the FCRHA's contributions have included awarding 68 federal project-based vouchers and $4.4 million in local dollars for the affordable housing development – or about $16,000 per apartment.
Financing for the four projects includes tax-exempt and taxable financing and 9% and 4% Low Income Housing Tax Credits through Virginia Housing Development Authority (VHDA).  FCHRA has provided Blueprint and CDBG funds in addition to Project Based-Section 8 rental housing assistance to make units affordable to families and seniors.  The Virginia Department of Housing and Community Development has contributed HOME, State and Federal Housing Trust funds.  Our banking partners include Bank of America and Truist Bank. 
Pennrose is active throughout the Mid-Atlantic region, with high-quality residential communities in Maryland, Virginia, St. Thomas Virgin Islands and Washington, D.C. Most recently, Pennrose began leasing at Pointe View at Aspen Hill, a 120-unit, affordable senior housing community in Silver Spring, Maryland.